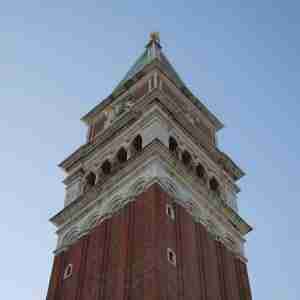 The St.Mark's Bell Tower served both as a watchtower and a bell tower in Venice.
The St.Mark's Bell Tower has been restored more than once, and also partly rebuilt at various times. In July 1902 it collapsed, old age, weak foundations, and lightning damage were blamed. The Campanile fell down in a neat pyramid of rubble, the only victim was the custodian's cat. It was rebuilt exactly "as it was, where it was", as the town council promised and it was completed in 1912.
The St.Mark's Bell Tower is crowned by a pyramid-shaped spire with a golden angel weathervane that turns with the wind. The Campanile also contains the five bells of St. Mark's, which can be heard across Venice tolling out the hours.
The St. Mark's Bell Tower
The view from the top (there is a lift) is superb. Sansovino's little Loggetta at the foot of the tower was also rebuilt, using bits and pieces found in the rubble. In the 18th century, the Loggetta was where the state lottery was drawn.
Skip the line service is only available from 1 April to 31 October. St. Mark's Bell Tower Venice tickets can be purchased online up to 10 minutes before the selected entrance time.
Please note that, during the daytime, there are at least two-time options available per hour (12 places available for each option) according to the time slot you choose to access the Campanile di San Marco with skip-the-line service.
Opening hours

From 1 to 15 April
9.00 am – 5.30 pm (last admission 4.45 pm)
From 16 April to 30 September
8.30 am – 9.00 pm (last admission 8.45 pm)
From 1 to 27 October
9.30 am – 6.00 pm (last admission 5.45 pm)
From 28 October to 31 March
9.30 am – 4.45 pm (last admission 4.30 pm)