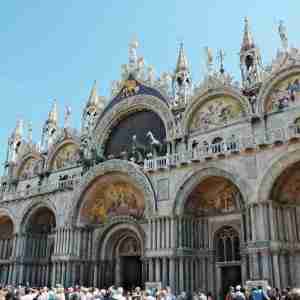 In AD 825, wily Venetian merchants allegedly smuggled St. Mark's corpse out of Egypt in a barrel of pork fat to avoid inspection by Muslim authorities.
Venice built the St. Mark's Basilica around its stolen saint in keeping with its own sense of supreme self-importance.
St. Mark's Basilica: The Pala d'Oro
One of the richest pieces of goldwork in the world. Formerly this splendid altarpiece was only exhibited during major religious ceremonies. The Pala has now been moved so that visitors can observe it without getting in the way of religious services.
Purchase online at a cost of €6.00 per person (free for children up to 6 years old) a ticket to get privileged access to St. Mark's Basilica and avoid the long line.
St.Mark's Basilica is, without doubt, Venice's most famous building.
In the city packed with architectural wonders, none beats St. Mark's for sheer spectacle and bombastic exuberance.
Skip the line at the St. Mark's Basilica
You can get a reservation for your access to St.Mark's Basilica. From 1st of April to 2nd November, on the day and at the time you prefer! From3rd November to 31st March St.Mark's Basilica is open to visitors but Skip the Line reservations are suspended because waiting times to enter the church from the main entrance reduce considerably and visitors can therefore enter without having to queue for a long time.
Opening hours

From 1st November to the Saturday before Corpus Domini feast (June) working days: 9.30 am – 5.00 pm (last admission 4.45 pm) Sundays and public holidays: 2.00 pm – 4.30 pm (last admission 4.15 pm)

From Corpus Domini feast (June) to 31st October working days: 9.30 am – 5.00 pm (last admission 4.45 pm) Sundays and public holidays: 2.00 pm – 5.00 pm (last admission 4.45 pm)
Cost

Adult € 6,00

free for children up to 5 years old