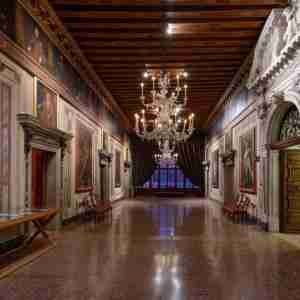 Palazzo Mocenigo
Palazzo Mocenigo was decorated with Rococo frescoes by Jacopo Guarana and Agostino Mengozzi Colonna in 1787; their theme was the apotheosis of the Mocenigo family. The Mocenigo family,  who were Lombards by origin, were nonetheless established in Venice for so long that at an early date they were already among the city's oldest patrician families.  One branch of the family resided in the San Stae quarter. 
Having acquired several neighboring houses, Alvise the First, who had been a proveditore generale (military governor) in Dalmatia, set about enlarging the family home towards the end of the 16th century. The result was a traditional palazzo, featuring a main hall (portego ) in its central block. At the beginning of the 18th century, Palazzo Mocenigo was once again enlarged on its right-hand side, where the salizzada is situated today.
THE CENTER FOR THE HISTORY OF COSTUME.
When he bequeathed his palace to the city in 1954, Alvise Mocenigo presented the museums of Venice with a doubly remarkable asset. The interiors, for one thing, were completely intact; and for another, the furniture and the interior still measured up to the standards of elegance that had prevailed in the great houses of the 18th century. A new library and museum have been installed since the legacy came into effect. 
The latter contains 5th-7th century Coptic textiles, Italian and French fabrics from the 14th-19th centuries, and 18th-19th century costumes. Palazzo Mocenigo also houses the Vittorio Cini Collection of religious drapery and woven fabrics from many different sources.