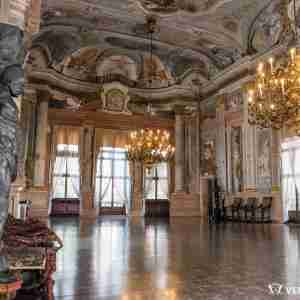 From 24 October 2022 Ca' Rezzonico Museum will be closed to the public for major renovation and restoration works
Discover the magnificent palace on the Grand Canal, Ca' Rezzonico.
CA' REZZONICO
FROM LONGHENA TO MASSARl.
Around 1667, the procurator Filippo Bon commissioned Baldassare Longhena to build a palace in place of two houses he owned at San Barnaba. Only the first floor and piano nobile had windows with key arches embellished by masks (inspired by the Marciana .&. 254). Massari, who was engaged by the Rezzonicos to complete the second floor, was completed by the architect's death in 1682 after which the work ceased because the Bon family fell into serious financial straits. 
For over seventy years the Ca' Rezzonico palace remained covered with a temporary wooden roof, for its owners had been bled dry by the expense of building the first half. Finally, in 1751, they gave up and sold the unfinished building to the wealthy Rezzonico family.
CA' REZZONICO THE MUSEUM OF 18th CENTURy DECORATIVE ARTS

 
Opened to the public in 1936, the collections at Ca' Rezzonico include paintings, pieces of furniture, faience, and porcelain from a number of different palaces. On the first floor, the ballroom, and a smaller adjoining room (the "Brustolon" room) are devoted to work commissioned by the celebrated cabinet maker Andrea Brustolon by Pietro Venier. 
The most spectacular piece is an extravagant console table held up by a statue of Hercules set between Cerberus and the Hydra. A Nuptial Allegory painted by Giambattista Tiepolo on the ceiling of the Nuptial Room for the wedding of Ludovico Rezzonico and Faustina Savorgnan in 1758, is matched by another Tiepolo masterpiece, the Allegory of Merit, in the Throne Room. 
To get from one to the other, the visitor must pass through the "Pastel Room"
(several works by Rosalba Carriera) and the "Tapestry Room" with its Flemish hangings. Here the ciocche (chandeliers in the shape of bouquets of flowers), the looking-glasses, and he mirrored wall-brackets constitute the glassmakers' contribution to the original 18th-century décor, the most extravagant cioccha of all being a 20-branched specimen (left) by Giuseppe Briati.
On the second floor, the rooms called "Villa Zianigo" are devoted to a cycle of frescoes A painted by Giandomenico Tiepolo just after the fall of the Republic for his country house near Mirano; and farther on a blend of Rococo and chinoiserie characterizes the "Green Laquer Room" while the 'Alcove Room" in a faithful reconstitution of an 18th-century bedroom, dressing-room and boudoir. Every element is here, down to a fifty-eight-piece silver nécessaire. Lastly, an 18th-century puppet theater and a reconstituted l 8th-century pharmacy are displayed on the third floor.